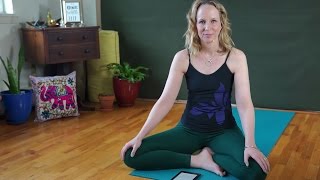 Coming April 8th! Taking Care of YOU! Gentle Yoga Class with Dr. Melissa West
(1 hr) Sharing the Sunny Side of Life - Chair Yoga Class with Sherry Zak Morris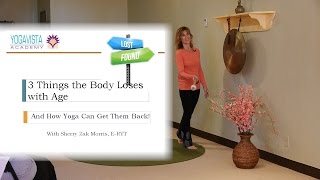 3 Things the Body Loses with Age, and How Yoga Can Get them Back! with Sherry Zak Morris
Coming April 8th! Taking Care of YOU! Gentle Yoga Class with Dr. Melissa West

If you feel you have no time to take a break from your responsibilities, then you might be down to the last fumes in your energy tank. Sometimes taking it slow and easy is just what we need when life is hectic and busy. Dr. Melissa West is our special Yoga Teacher guest on the YogaJP channel and she offers you a 30-min respite where things are calm and mellow. Take her invitation and fill up your energy take with this Gentle Yoga for Self-Care class. Like Melissa's Yoga style? She has lots more of these on her YouTube channel. Subscribe to her at https://www.youtube.com/user/DrMelissaWest

(1 hr) Sharing the Sunny Side of Life - Chair Yoga Class with Sherry Zak Morris

No matter what is going on in your life right now, you can always find time to feel the Joy and Gratitude of being alive. Even with our aches, pains, worries and frets we can give ourselves permission to walk on the Sunny Side of Life and appreciate all that we have. Sherry leads this Energizing Chair Yoga class with a group of senior citizens who happily and joyfully move, dance and smile while celebrating the NOW. Join us! You'll be glad you did! ("Life can be so sweet on the sunny side of the street!" Louie Armstrong)

3 Things the Body Loses with Age, and How Yoga Can Get them Back! with Sherry Zak Morris

Whenever I am asked to speak about the benefits of Yoga for people over 50... I'm all in! I've spoken to people in church halls, conference rooms, parking lots, health fairs and lots of places around my community. I often have people in the group that have never done Yoga before, so I have to be creative and meet them where they are at in their minds and in their bodies. One topic I find that really gets people's curiosity up is .... What, if anything, can be done about aging, aches and pains? I created a Community Workshop called "3 Things the Body Loses with Age, and how Yoga can Get Them Back!" and I finally had the opportunity to film it so that more people can benefit from this information!
Short Special Topic Yoga Videos
Yoga for Neck and Shoulders
Streaming Gentle, Senior and Chair Yoga DVDs